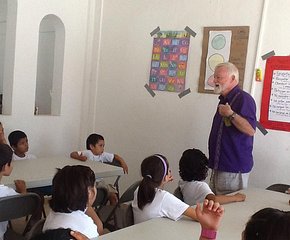 Connect and Become Someone's Hero
"MAKING A DIFFERENCE THROUGH CONNECTIONS"
We started our ministry in and around the garbage dump. We worked with the poorest of the poor. We taught English in the School of Champions for 1 year then left to teach above the dump at a Calvary Chapel site. We fed and taught about 50 to 65 kids every day. Can you imagine making 65 peanut butter and jelly sandwiches 5 days a week? It was a learning lesson as the kids didn't like peanut butter. Hehe. Then after a few years Calvary decided it was going to build a school on the site where we just has a large concrete pad with a roof.
Then on to teach for the little Baptist church and school in front of the dump with Pastor Luis and Lupita. We were teaching about 30 kids. The roads were dirt and the smells and heat terrible. The huge cities buses caused large billows of dust clouds and the flies were terrible.
We were totally smelly and dusty when we returned home. But those kids were getting fed with food and the Lords word. The Baptist church closed and we moved on.
We also gave tourists tours from the fancy hotels to the poverty stricken dump area.
We then started teaching at the Casa Hogar Maximo Cornejo Quiroz Orphanage. We have been there 10+ years. Faye and I both have classes of students. We provide 20 to 30 cases of milk and 2 or 3 cases (90 eggs per case) per month. Our ministry hired a retired bilingual school teacher from California to prepare our older children for society. This means they are taught English, social skills, computer skills and bible lessons preparing them to enter life and also the tourist industry. 54 kids (varies)
I am also the Chaplain for the American Legion Post #14 in Puerto Vallarta.
LANGUAGE MINISTRIES
We also have taught English at a very rural high school in a fishing village called Boca Tomatlan to senior grade students about 25 students.
We also teach English in Pastor Luis's new Christian church up in the mountains.
Faye is now teaching English in the new Christian home called Casa Hogar Compasion where I am a Board Member.
With your continued support you have enabled us to serve the following facilities:
The poor in the garbage dump of Puerto Vallarta
The School of Champion in the Puerto Vallarta Dump
Calvary Chapel School in Laguna de Valle
The Pan de Vida Baptist School
The AGAPE Home for Abused Girls
The Paradise Community Church
The Boca de Tomatlin HIgh School
The Casa Hogar Maximo Cornejo Quiroz Orphanage
The DIF Boys Home (Social Services)
Casa Hogar Compasion
And Many Other Temporary Outreaches