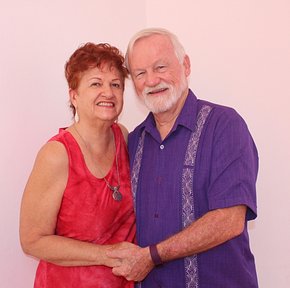 WELCOME
to Home of Transformati
ons
Hi folks, this whole new website is for and all about the children we serve. And it is also about you. Without you we could not bless the children and facilities we serve. We have been volunteer missionaries in Puerto Vallarta and the surrounding towns since 2003.
HISTORY
Welcome to our home here in Puerto Vallarta. My name is Dennis Janson, and I was born and raised in the San Francisco East Bay. Raised as a good Irish Catholic boy. Joined the US Navy at 17 and travel the Far East. Upon discharge joined the California Highway Patrol. Retired after 13 years when struck by a car. Owner of a Real Estate and Property Management firm in San Leandro. Attended the Presbyterian Church in Castro Valley where I served as a Deacon, Elder, Trustee and Bible Teacher for 12 years. Became a Missionary in 2002 and moved to Puerto Vallarta, Jalisco, Mexico.
VISION & MISSION
Why become missionaries at age 60. We decided to start planning for our retirement at age 65. So I obtained all the brochures from many mission societies. I had a huge pile of material on my desk and decided I would need to do a spreadsheet to figure out where the Lord wanted us. Then Faye saved me by saying our two Asian students wanted to go on vacation so decided I would wait on the spreadsheet until we returned. We took the girls to Puerto Vallarta. We connected with a Christian Mexican church for Sunday service.
They then invited us to go out to the neighborhood of the garbage dump on Monday. They were having a woman's bible study. They asked Faye to help prepare lunch for the ladies with a table set up on a dusty dirty street. I asked them if I could do something. They gave me a sack of tangerines and told me to go to the second floor of one of their ministries called the School of Champions.
I climbed up a tall set of stairs and positioned my back against the rail about 15 feet above the ground and waited for the children to exit. The doors opened and I passed out the tangerines. The last two 6 year old girls squatted in front of me so I could take a picture. I framed them in my camera and an audible voice said "This is where I want you to be". I looked below and on the landing and it was only I and the girls so dismissed it. I framed them again and Lord said again audibly "This is where I want you to teach". I was shocked as no one was around us. I immediately went back 1 block to Faye and told her we were to be missionaries here and she said "I know".
18 months later after selling our house and business and only loading our car to the gills we were teaching to those same students. And there has been many miracles along the way. 15 years now teaching English and the love and peace we have following the Lord. obediently.
The sending church for Dennis & Faye Janson is the First Presbyterian Church of Hayward/Castro Valley, California.